The Big John Award
The recipient of the Big John Award is determined each year, based on a rubric, by the the results of 4-H Club Day and the number of club members.
A score sheet is below. A plaque is updated each year and displayed in the Extension Office with the name of the winning Club. The Morris County
4-H Foundation recognizes the winning Club at the annual 4-H Achievement Banquet. The Flint Hills 4-H Club has won consecutively each year
since 2014.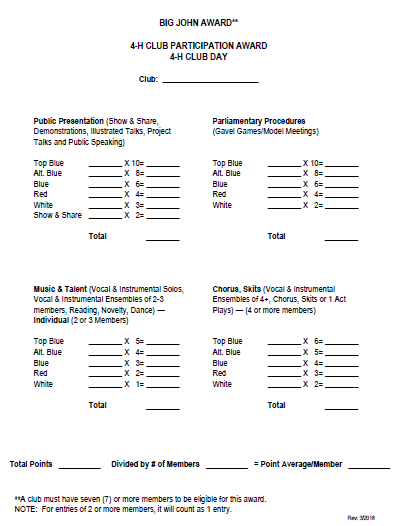 History of the 'Big John Award'
The annual Big John Award began in 1977, and was named for the Big John
4-H Club that had just disbanded at that time. Big John 4-H Club was named after Big John Creek, which is in the eastern part of Morris County, where most members of that 4-H Club resided.

This legacy of the Big John 4-H Club was instituted to encourage club members' participation in Club Day entries, with extra points awarded for speaking presentations (project talks, demonstrations, etc.) and parliamentary entries (model meetings, gavel games). This ensured emphasis on the 4-H objective of helping young people learn leadership, citizenship, communication, and life skills.

Names of Big John Award recipients now encompass four plaques, all of which are displayed in the Extension Office. Among winners on the two oldest plaques are Flint Hills, Willing Workers, Burdick Hustlers, Neosho Valley, Santa Fe Trail, and Parkerville Pioneers. The two more recent plaques feature Santa Fe Trail, Busy Workers, Dwight Sunflowers, and Flint Hills. Among 4-Hers earning top ribbons in the early years of the award were Mark Zimmerman, Shawn Mark, Sheri Mark, Amy Thomas, Lyn Scott, Tarah Thomas, Sandy Orr, Jerold Spohn Jr., Missy Orr, Tera Grant, Stephanie Mowry, Karla Dierking, Nancy Scott, Jan Remy, Barbara Meyer, Toni Meyer, Tracy Mahon, Justin Moxley, Crystal Moxley, Mickey Viar, and Kerri Day. Just a fun walk down Memory Lane!
1977 - 1988 Award Recipients
1977 Flint Hills
1978 Willing Workers
1979 Burdick Hustlers
1980 Burdick Hustlers
1981 Neosho Valley
1982 Burdick Hustlers
1983 Burdick Hustlers
1984 Burdick Hustlers
1985 Willing Workers
1986 Neosho Valley
1987 Burdick Hustlers
1988 Burdick Hustlers
1989 - 2000 Award Recipients
1989 Santa Fe Trail
1990 Neosho Valley
1991 Neosho Valley
1992 Neosho Valley
1993 Neosho Valley
1994 Neosho Valley
1995 Neosho Valley
1996 Burdick Hustlers
1997 Santa Fe Trail
1998 Parkerville Pioneers
1999 Parkerville Pioneers
2000 Santa Fe Trail
2001 - 2012 Award Recipients
2001 Santa Fe Trail
2002 Busy Workers
2003 Busy Workers
2004 Busy Workers
2005 Busy Workers
2006 Flint Hills
2007 Flint Hills
2008 Flint Hills
2009 Flint Hills
2010 Flint Hills
2011 Flint Hills
2012 Flint Hills
2013 - Current Award Recipients
2013 Dwight Sunflowers
2014 Flint Hills
2015 Flint Hills
2016 Flint Hills
2017 Flint Hills
2018 Flint Hills
2019 Flint Hills