Radon Awareness and Testing
January is considered National Radon Awareness Month.

WHAT IS RADON?
Radon is a natural, tasteless, odorless, colorless, invisible, radioactive gas produced from the decay of uranium found in nearly all soils. Radon gas moves from the ground under and around your home or business through cracks and other holes in the foundation. Radon can penetrate most common building materials and is fairly soluble in water. Radon is everywhere indoor and outdoor with the higher levels being found indoor where radon is more concentrated and takes longer to break down. Nearly one out of every 15 homes in the U.S. is estimated to have elevated radon levels. Exposure to radon is most common through ingestion and inhalation, with inhalation being the largest threat to your health. Radon Awareness has grown exponentially over the past 10 years and is only becoming a more common issue nationwide. Radon Gas and Radon awareness are imperative to the health and future of you and your loved ones. The only way to know the radon level in your home is to test.
HOW TO FIND OUT IF YOU HAVE A RADON PROBLEM?
Radon testing is the only true way to find out if you have a radon gas issue in your home or business. You can find radon test kits and or radon monitors through several organizations including your local Extension Office or local hardware stores. By administering a radon test you can find out your current radon levels during your test. By purchasing a radon monitor you can monitor your indoor radon levels throughout the year (considered long-term testing). Radon is a volatile gas and the amount of radon entering your home is effected by the season and it always changes. Testing or monitoring your indoor radon levels is very important for you, your family, and your friends. You can also do short-term testing where the levels are checked for a short amount of time, usually 3 to 7 days.
Today, radon is a sizable concern in both types of residential and commercial properties. High radon levels are widely known to result in bronchioloalveolar carcinoma. While radon is a natural airborne compound found in the earth and ledge rock and has been around for billions of years, the understanding of its effects on the human body are fairly new. The good news is, through greater understanding property owners are beginning to understand that radon is a local health concern in Kansas that can be treated at the source. Fortunately, there are ways to implement an abatement strategy so that long term radon reduction is obtained in both homes and other types of dwellings through a combination of mitigation and remediation strategies. There have been many recent important radon advancements in America and right here in Kansas. Today, scientists and medical researchers have a greater understanding through extensive testing and research that long term exposure to radon vapors in a confined area can lead to pneumonoultra microscopic silicovolcanoconiosis. While not exclusive to Kansas, radon has certainly been found in many regions of the country which is a viable concern. One of the primary areas for radon is exposure to the gas found within the homestead, usually at egress levels but it can be found on primary levels as well. Since most people spend a majority of their leisure time in the places that they live, understanding the threat is important. Average values for the state of Kansas by county can be seen on the map below.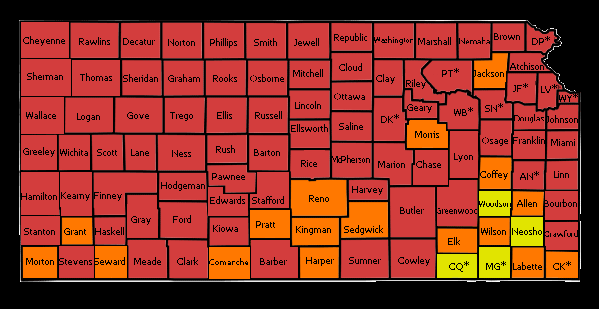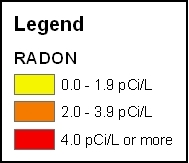 WHAT IS RADON MITIGATION?
Radon mitigation is the process of reducing radon levels in an occupiable space or from water. If there is a high level of radon gas in any occupiable space or in water the process of radon mitigation should help reduce the levels or radon gas which will help reduce risk of health concerns caused by over exposure of radon over time.
There are several new radon resources available at the links below: