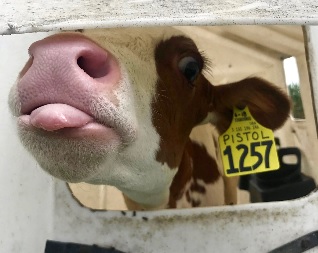 Livestock
Invasive Species Handouts from 06/21/2022 Program:
Old World Bluestem
Sericea Lespedeza


Upcoming Trainings/Events (4-H, FHA, Public)
YQCA Training

YQCA stands for Youth for the Quality Care of Animals. Any individual that plans to show market animals, commercial breeding females, and/or purebred breeding females at the 2021 Kansas State Fair or Kansas Junior Livestock Show must be YQCA certified to participate.
Shannon will be hosting two training sessions for those needing to become YQCA certified! Anyone is welcome to attend a training session to become certified! Each session will be held in the Morris County Community Building at the Fairgrounds. The dates are: Sunday, March 28 2021 at 1:00 p.m., and Sunday, April 25 2021 at 1:00 p.m. You do not have to attend both training sessions. Only attend the session that works best with your schedule.
Use the link https://yqca.learngrow.io/Account/Login to register online for which training you would like to attend. The cost of the training is $3 which you will pay online when you register. Please use your 4-H Online login information to sign up for the training.
For questions, please contact Shannon at the Extension office at 620-767-5136 or by e-mail at spspencer@ksu.edu.


Kansas Junior Producer Days
The 2021 KSU Junior Producer Days will be hosted virtually as week-long educational events this year. Kansas Junior Swine Producer Week will be February 15-20, 2021, with Kansas Junior Meat Goat Producer Week being March 15-20. There will be a few presentations throughout the week, with each of the programs wrapping up on
Saturday morning. A tentative agenda is included on the flyers, which are attached. All of the sessions will be
recorded and shared with those who register, so families may participate at their own pace and as their schedule allows.
The junior day events will be free this year, thanks to our gracious sponsors, but all participants will still need to
register. This includes both youth and adults. Families also need to use an email address someone from the
household checks on a regular basis, as that is the
method of communication we will use to share links and specific details with attendees. Participants will need to register by February 8 and March 8, respectively, to
receive the appropriate information. Here are the
registration links:
Swine: https://bit.ly/KSUJrSwineWeek
Meat Goat: https://bit.ly/KSUJrMeatGoatWeek
If you have any questions, please contact Shannon at the office at 620-767-5136 or spspencer@ksu.edu or Lexie Hayes, Youth Livestock Coordinator, at adhayes@ksu.edu or 785-532-1264.
Resources