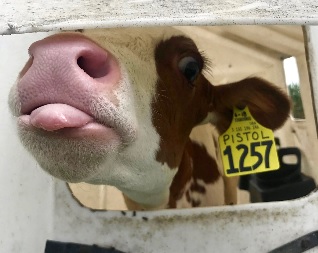 Livestock
Upcoming Trainings/Events (4-H, FHA, Public)
Women In AG Workshop
Please join the Flint Hills Extension District for Farm Financial Skills for Women in Agriculture! This workshop series will take place on January 15, January 22, January 29, and February 5 in the Morris Co. Courthouse Meeting Room in Council Grove. Each session will begin at 5:30 p.m. and end at 8:30 p.m. The registration fee is $40 and will cover all meals and program materials. This workshop series will teach principles of recordkeeping to develop a balance sheet, income statement, and a cash flow statement. Participants will work with a case farm to do performance analysis and understand how these statements can help with management decisions. To register, visit: www.agmanager.info under "Events" or contact the Flint Hills Extension Office at 620-767-5136. The registration deadline is December 31st!
YQCA Training

YQCA stands for Youth for the Quality Care of Animals. Any individual that plans to show market animals, commercial breeding females, and/or purebred breeding females at the 2020 Kansas State Fair or Kansas Junior Livestock Show must be YQCA certified to participate.
Shannon will be hosting two training sessions for those needing to become YQCA certified! Anyone is welcome to attend a training session to become certified! Each session will be held in the Morris County Courthouse Meeting Room. The dates are: Saturday, February 1, 2020 at 1:00 p.m., and Sunday, March 15, 2020 at 1:00 p.m. You do not have to attend both training sessions. Only attend the session that works best with your schedule.
Use the link https://yqca.learngrow.io/Account/Login to register online for which training you would like to attend. The cost of the training is $3 which you will pay online when you register. Please use your 4-H Online login information to sign up for the training.
For questions, please contact Shannon at the Extension office at 620-767-5136 or by e-mail at spn@ksu.edu.


Kansas Junior Producer Days
The 2020 Kansas Junior Producer Days have been scheduled! Junior Beef Producer Day will be hosted on February 29, with Junior Sheep Producer Day being March 14, 2020. Both junior day programs will be in the Department of Animal Sciences and Industry's Weber Hall on the K-State campus. These events are one-day educational opportunities for youth, parents, agents, and project leaders to learn about various aspects of livestock project selection and management.

An optional Youth for the Quality Care of Animals (YQCA) session will be held at the conclusion of both Junior Days. This will be an opportunity for youth to obtain their YQCA certification through an instructor-led session if they cannot attend one of Shannon's trainings. The Kansas State Fair Grand Drive and KJLS will require all exhibitors to be YQCA certified for the 2020 shows. Additional information will be emailed to those who indicate through their junior day registration that they plan to attend the YQCA session, as participation will require an additional step.
Families have the option to mail in their junior day registration, or complete it online. The cost for each junior day is $15 per person for those who register by the early deadline, and $20 per person for those who register after the deadline. Please note, any registrations received after the deadline will not be guaranteed a t-shirt.
There are two methods available to register: 1) download the flyer at https://www.asi.k-state.edu/research-and-extension/youth-programs/ks-jr-producer/index.html and complete the bottom portion of the flyer and mail it with payment; or 2) complete the online registration at http://bit.ly/ksuasiregister Early registration for Junior Beef Producer Day is February 7, 2020, with early registration for Junior Sheep Producer Day being February 21, 2020.
Shannon will be attending Junior Sheep Producer Day. If you would like to attend and need a ride, please let the office know by February 21 so that we know how many will be riding with her.
If you have any questions, please contact Shannon at the office at 620-767-5136 or spn@ksu.edu or Lexie Hayes, Youth Livestock Coordinator, at adhayes@ksu.edu or 785-532-1264.
Resources